Put your light where you want it.
The Mid Beam Light Mount attaches to any 5mm mounting boss on your bike,
giving you options to hang your headlight, taillight or whatever.
Mount on fork or seat stay, or on dropout eyelets or rack bosses.
Anodized, CNC-machined aluminum - weighs just one ounce.
The best solution to finding your way at night.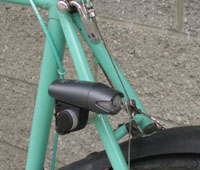 Atoc Inc.
3615 132nd St SW, Ste C
Lynnwood, WA 98087
(800) 286-2021
(425) 745-2131
info (at) atoc.com