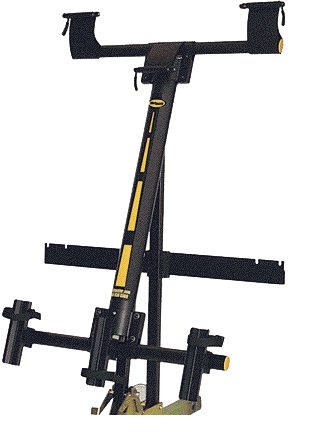 Draftmaster - the smart way to carry multiple singles or SWB recumbents
Configurations for 1 - 5 upright singles, 1 - 4 SWB, or combinations.
Carry any bike with standard 100mm fork spacing

(virtually all bikes)

and wheelbases 28 - 48".
Carry any frame style.

Tri bikes, sloping top tubes, Softride beams, carbon fiber and shaped tubes are no problem.

Eliminate risk to frame and paint.

No awkward cradles, frame straps, clamping arms or anti-sway gizmos.

Carry tandems, LWB recumbents or trikes.

Specialty Rail modules can be added to any Draftmaster.
Options for your Draftmaster:
Front Wheel Carrier holds up to four wheels.

Hides away when not in use.

Topper Lok security skewer

with long-throw cam. Lock your bike to the rack.

Security Hitch Bolt.

Lock your Draftmaster to your car.
Standard with all Draftmasters:
Walk-up access to your tailgate - without removing bikes. Get at your stuff easily.
Carrier swings back & down for easy loading.

No high lifting required.

Bikes are always fully accessible.

Get to any bike at any time.

Bikes ride "in the draft" for better gas mileage.
Simple assembly and easy operation.
Easy to remove and store with our quick-connect design.
Modules* are interchangable to accomodate changing needs.
Backed by a two year warranty.
Atoc Inc.
3615 132nd St SW, Ste C
Lynnwood, WA 98087
(800) 286-2021
(425) 745-2131
info (at) atoc.com