Tandem Topper's pivot assist loading system allows true one-person loading and unloading of your tandem or LWB recumbent every time.
Atoc's pioneering pivot system offers
unmatched ease of use, versatility and quality.
Insist on a genuine Tandem Topper.
We make Tandem Toppers in sizes to carry all tandems and long-wheelbase recumbents - including 2, 3 and 4 person tandems and recumbent tandems!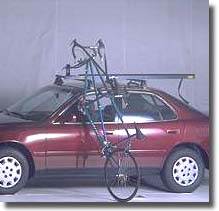 One-person loading - every time!

Easy to install
Easy to use
Easy on you and your bike
Highest quality - made in the USA


Pivoting fork mount system

Easy, fast one person loading and unloading
Takes less than one minute
No finicky adjustments or tricky latches
Incredibly simple!

"So simple - even a klutz like me can install and use it. - Joe R., Laurence Harbour, NJ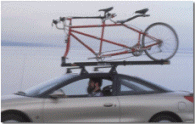 Save your back

No heavy or awkward lifting
Never lift more than ½ your bike's weight
Tandem Topper stabilizes your bike while loading & unloading
Save your bike

Holds your bike at points designed for contact
No cradles to mar your bike's finish or damage cables
No playing hide and seek through greasy chains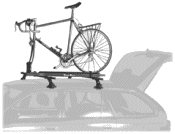 Save your bucks
Carry a single or SWB recumbent without adjustment
No need for an additional single-bike mount
Maximizes available load bar space too!
"A more refined version of the other roof top carriers ... Excellent system ... Versatile" - Tandem Magazine
Models for triples...and longer!
The
TT-105
model is
the
rack for triplets...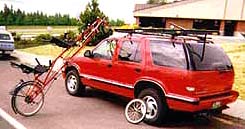 ... and longer models are available for quads
and other extra long needs.
"We liked our first Tandem Topper so much we bought another for our second tandem. Thanks for your clever design and great customer support!" - Ed P., Bellevue, WA
Fits most vehicles - small, large, short, or tall
Standard mounting hardware fits Yakima (round) and Thule (rectangular) compatible loads bars
Mounts anywhere on load bars, no expensive add-on adapters needed
Mounting kits available to fit Thule Rapid Aero and OEM bars from VW, Audi, Mercedes, BMW and Mini
TT-076 and -084 models need only 22" load bar spacing - short rooflines are not a problem
Only 4" wide so you have more room on your bars to carry lots of bikes (or other stuff)
Bicycle is well balanced across the load bars
A breeze to install - one wrench does all. No assembly required
Built strong to last long
Custom tray extrusion is designed to handle the stresses of carrying a large bike
High strength, rust free aluminum structure throughout
Maintenance-free pivot mechanism
Stainless steel used for exposed operating hardware
Durable powder coat finish


"A neat solution" "Nicely made" - Bicycle Guide Magazine
Topper Lok™
- Atoc's optional 9mm Security Skewer is the ultimate in locking skewer systems.
The Topper Lok also fits
any
fork mount rack with a removable 9mm skewer.
"... Well built .. Stable ... Convenient ...one of the best solutions we've found" - Tandem Magazine
Tandem Toppers are available in the following models:
(-xxx number indicates maximum recommended wheelbase)

TT-076 - upright tandems, most recumbent tandems including Rans Screamer

TT-084 - long upright tandems, extra long recumbent tandems, e.g. Rans Seavo

TT-095 - Sun EZ Tandem

TT-105 - triplet tandems, can carry a single or tandem too!

TT-other - quad tandems or ???, call for your special needs
Atoc Inc.
3615 132nd St SW, Ste C
Lynnwood, WA 98087
(800) 286-2021
(425) 745-2131
info (at) atoc.com